One of the major restrictions imposed by Microsoft in order to be able to switch to the dark side of the force Windows 11 is the need to have a TPM 2.0 chip or module (integrated into the most recent AMD or Intel processors) in his computer, and that it is of course activated in the BIOS. However, this condition does not seem to be so imperative as that, the new Microsoft operating system can a priori perfectly accommodate a platform without TPM 2.0… provided that you manage to install the system on it, the editor doing everything he can to block the installation of Windows 11 on this type of configuration not officially supported.
Read > How to install Microsoft Windows 11 on a compatible PC?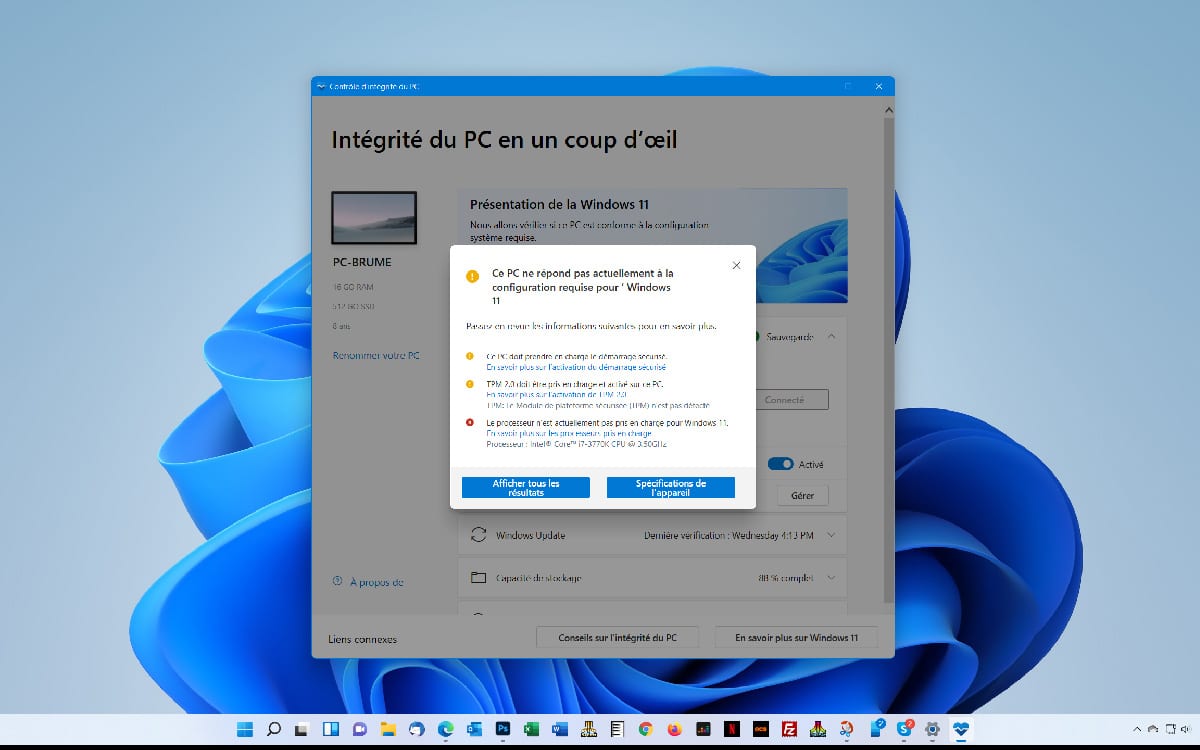 Microsoft has also released a tool called PC Health Check responsible for validating the possibility of installing Windows 11 on your configuration by performing a few tests, including the presence of a TPM 2.0 module, Secure Boot, a sufficient amount of RAM (4 GB minimum) or even an officially supported processor (at least an 8th generation Intel processor, an AMD Zen 2 or a Qualcomm 7 and 8 Series). If this software tells you that your current configuration does not meet the requirements of Windows 11, the new version of Microsoft's operating system will stubbornly refuse to install.
A tool to disable TPM verification
Fortunately, several tricks have appeared in recent months to circumvent the problem, and allow the direct installation of Windows 11 or the update from Windows 10 to Windows 11 on a platform without TPM 2.0. But this requires modifying the downloaded ISO or creating registry keys during installation. Another solution is to use a small tool available on Github, theUniversal MediaCreationTool. In addition to the possibility of download any version of windows 11 or windows 10 from official servers from Microsoft, the latter also makes it possible to override this limitation, with a simple click. It is thus possible to update an existing installation of Windows 10of create an ISO image or of create a bootable usb of windows 11without checking for the presence of a TPM module.
The procedure for recovering Windows 11 installation files and disabling TPM verification is relatively simple:
Go to page Github from the Universal MediaCreationTool project and download the ZIP file (via the button at the top right).
Unzip the ZIP archive in a dedicated directory on your hard drive, or directly in a directory on your desktop.
Double-click Skip_TPM_Check_on_Dynamic_Update_v2.cmd
Double-click MediaCreationTool.bat
The script allows you to download different versions of Windows. At the bottom of the list, choose the option that corresponds to Windows 11. You then have the option of downloading the installation files in different forms: ISO image, files to install on a USB key or directly the files allowing you to install update an existing installation of Windows 10. Once these files have been downloaded and before starting the installation itself, we recommend that you temporarily disable your Internet connection. You can re-enable it after Windows 11 installation is complete.
Our colleagues at Phonandroid have however noted that the update from Windows 10 could be quite long: nearly 45 minutes on a platform consisting of a Core i7 3770K, 16 GB of RAM and a 512 SSD. Go. This is indeed significantly longer than a "clean" install of Windows 11 on a blank partition, but tests indicate that the operation is viable and that all documents, applications and preferences are properly imported from Windows 10.
Finally, good news this method does not disable access to updates through Windows Update. However, Microsoft could come back to this point in the future, and there is no indication that updates will continue to be available over time. The publisher has thus planned to block the installation of important updates or dedicated to security on configurations without TPM, but it is not yet known when Microsoft will apply this decision.